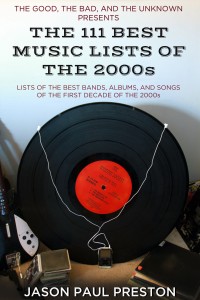 This is the first "best of" list of 2014.  To kick things off there's a little self-promotion for myself and my book.  If you haven't picked it up…get it on Amazon here and Kindle here.  Only .99 cent on Kindle!  That's cheaper than a stamp…well two stamps.
In honor of our first list, here's the Stephen Malkmus chapter from the book.
________________________________________________________________
After spending the '90s fronting the indie rock sensation Pavement, Stephen Malkmus could have hung up his golden vocal chords and lived out the rest of his life as an asparagus farmer in Stockton.  He didn't.  He went solo.  Though rabid anticipation surrounded his debut release, there was a lingering feeling that there was no way Stephen could match his previous musical apex without his former band mates.  When  Malkmus released his debut solo album, the critics were blown away. Not only did the album exceed expectations, many thought it was the best material Malkmus had done since Pavement's Crooked Rain, Crooked Rain.  Talent and creativity of this level are not found on a game show.  Malkmus may have only broken into the mainstream for one brief millisecond with Pavement's "Cut Your Hair" but twenty years into the game, he is still putting out critic-proof material and musical masterpieces.  Take that, Jonas Brothers.
Fun Facts:  Stephen Malkmus was a college radio DJ at the University of Virginia, along with David Berman of the Silver Jews and James McNew of Yo La Tengo.
The 11 Best Tracks By Stephen Malkmus:
Jo Jo's Jacket (Stephen Malkmus)
Phantasies (Stephen Malkmus)
Freeze The Saints (Face The Truth)
Dynamic Calories (Dark Wave EP)
We Can't Help You (Real Emotional Trash)
The Hook (Stephen Malkmus)
Ramp of Death (Pig Lib)
Jenny & the Ess-Dog (Stephen Malkmus)
Real Emotional Trash (Real Emotional Trash)
Fractions & Feelings (Dark Wave EP)
Discretion Grove (Stephen Malkmus)
Buy Stephen Malkmus and the Jicks' new album, Wigout at Jagbags…now!